Our Strengths
Our objective at CAC Group is
to continually contribute to the enhancement
of customers' corporate value.
As a knowledge-intensive company, we provide a full range of
business information system services, as well as high value add
services that integrate information technology into business.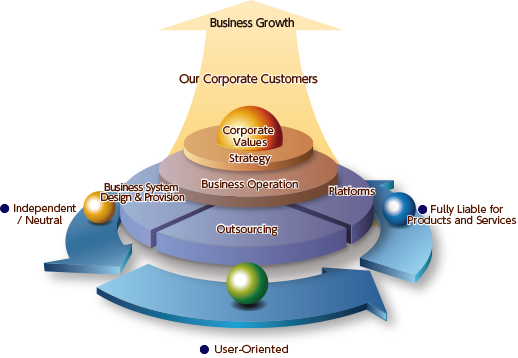 With our founding philosophy of being" Independent and Neutral,"" Fully Liable for Our Products and Services" and" User-Oriented," CAC Group's strength is based on the vast array of professional knowledge, expertise and understanding of related laws and regulations specific to our customers'businesses that it has amassed in its pursuit to offer optimum systems and solutions. By providing knowledge-intensive services powered by such in-depth expertise and superb insight into information technology, we aim to bring about business innovation and creation for our customers as well as continually contributing to the enhancement of their corporate value.