Human resources
Under its medium-term strategy, the CAC Group is promoting a shift towards digital business.
We are establishing a framework for developing the human resources needed to promote this shift while at the same time focusing on creating an environment in which every employee is able to act spontaneously and intuitively based on a correct understanding of the direction in which the CAC Group is headed.
Improvement of way of working through work style reform
The CAC Group is implementing work style reform with the aim
of diversifying ways of working and continuing to conduct business in emergency situations.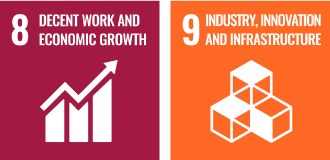 Diversification of ways of working through work style reform
CAC Holdings and CAC, which is the core operating company, began promoting the systemization of workflows, the utilization of teleconferencing and the accompanying shift towards paperless operation in 2011 and built a teleworking environment and system that allow people to work anytime, anywhere and with anyone in 2012.
This has resulted in the introduction of a free-address system (which allows employees to work anywhere in the office) to the floors of sales and administrative departments. It also permits employees to work from home, diversifying working patterns to suit individual circumstances and lifestyles.
As a result of this initiative, CAC was selected for the Telework Pioneer 100 by the Ministry of Internal Affairs and Communications in 2016.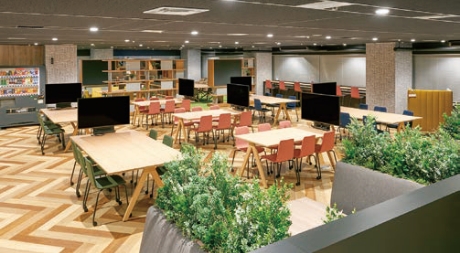 A free-address floor
Continuation of business in emergency situations
This work style reform has not only helped improve productivity and reduce costs but has also been extremely helpful for dealing with unforeseen situations. When people were requested to refrain from going out due to COVID-19 in 2020, CAC Holdings and CAC were able to continue conducting business without any major disruption, reducing the number of employees coming into offices to around 20% of normal levels through the use of remote working and online meetings. We recognize that this contributed greatly to preventing the spread of COVID-19, allowing us to protect employees'health whilst avoiding any interruption in the provision of services to customers.
By continuing to implement work style reform in the future, we will develop an environment in which our employees, who are important assets, can fully demonstrate their skills, achieving personal growth alongside corporate growth.

*The number of people entering and leaving the building is the average number for weekdays.
Initiatives to promote digital shift
The Group is encouraging individual employees to increase their skills in order to achieve
a shift towards digital business in accordance with the medium-term strategy,
with the aim of contributing to technological innovation alongside the sustainable development of the company.

Formulation of Technology Compass
For the purpose of accomplishing the shift to digital business in accordance with the medium-term strategy, CAC made a list of the required technology areas and developed the Technology Compass in 2018. This is a roadmap that closely specifies their definitions, statuses of current actions, future actions, examples, business values and other areas.
This helps individual employees to understand what technologies they should acquire, the direction in which the Group is headed and what actions they should take.
We periodically revise the Technology Compass because the technologies we need, the direction in which the Group is headed, and the measures we take change depending on advances in technology and global trends.
Schematic of the Technology Compass

Cluster activities
In 2018, we launched technology cluster activities to enable many employees to master technologies included in the Technology Compass more efficiently. We form communities comprising personnel sharing the same technological orientations so that they will mutually provide the support necessary for skill acquisition.
Besides offline activities which require members to meet up, clusters also conduct online activities using digital tools, overcoming the obstacles of distance and time to share information believed to be useful with other members in an attempt to improve each other's skills. In addition, experienced members provide answers to questions submitted by others, shortening the time taken to find solutions to problems and these cluster activities have continued smoothly even during the COVID-19 crisis.
Technology clusters support the accumulation of knowledge through activities such as holding report meetings and disseminating information on our internal portal.
More recently, we have broadened the scope of technology cluster activities to include not only internal activities but also public seminars.