Social
The CAC Group believes that building community relationships and trust will lead to its own sustainable growth and implements a range of CSR activities.
Activities for promoting and supporting boccia
Since 2016, the CAC Group has been implementing a range of initiatives aimed at contributing towards the betterment of human health through activities for promoting and supporting boccia, a sport for people with disabilities.
These include holding boccia tournaments for students as an educational opportunity and renting out the boccia court inside the head office building to help create a comfortable town to live in.

Activities for promoting and supporting boccia, which is good for everyone's health
The Group adopts varied approaches to activities for promoting and supporting boccia because, though a sport for people with disabilities, boccia can be enjoyed by everyone.
We help organize tournaments held in Japan and also hold taster sessions and instruction sessions for hands-on experience of the sport.
In 2019, we introduced boccia to around 1,600 people in total at 24 events.
Shun Sato, a boccia athlete who belongs to the CAC Group, also works with Group employees to promote boccia in various places.
Some of our employees are qualified as referees accredited by the Japan Boccia Association and, in 2019, a total of 96 employees took on the heavy responsibility of refereeing at 16 tournaments. In addition, in 2017, we started donating boccia equipment to organizations that have difficulties purchasing it to ensure that more people would enjoy playing boccia.
In 2019, we donated boccia ball sets and boccia ramps to 25 non-profit organizations and corporations and held instruction sessions for organizations upon request.
Activities to promote boccia within the company are also flourishing, and employees' involvement in boccia, including the incorporation of taster sessions into training for new employees and group-wide training, helps improve communication and the physical and mental wellbeing of employees.
Through these activities for promoting and supporting boccia, we aim to help both people with disabilities and people without disabilities of all ages, from children to the elderly, maintain and improve their health.
Actual activities in 2019



Opening of boccia court up to the public to help promote health
In July 2019, we set up a regulation-sized boccia court with a TARAFLEX sports floor, as used in major international tournaments, on the first floor of our head office building.
Besides using the court internally, we have also rented it out to the public, either as a proper practice court for athletes or as somewhere that helps workers maintain or improve their health and helps local residents socialize or stay healthy.
By providing a barrier-free environment with automatic doors at the court entrance/exit and disabled toilets, the court makes a healthy lifestyle accessible to everyone and also helps create a town which is comfortable to live in.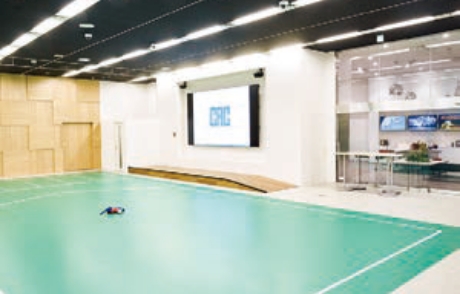 Boccia court (first floor of head office building)
Organization of boccia tournaments as learning opportunity for students with disabilities
Since 2017, the CAC Group has been holding the CAC Cup every year, which is a boccia competition among schools for special needs education located in Tokyo. (The fourth tournament in 2020 was cancelled to prevent the spread of COVID-19.) The CAC Cup aims to provide students who participate with an opportunity to mix with other schools, master the techniques, manners and rules of boccia and learn the principles of sportsmanship, and show how hard they have been practicing. It also provides an opportunity to raise awareness of boccia as a lifelong sport.
Alongside the main competition, we also hold events that give spectators hands-on experience of boccia, showing them that it is a healthy sport which everyone can enjoy regardless of disability, age, or gender. The CAC Cup is planned and run by CAC Group employees themselves, and provides a valuable opportunity for those running the tournament and volunteer participants to experience the health and wellbeing benefits of boccia.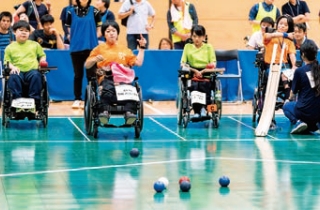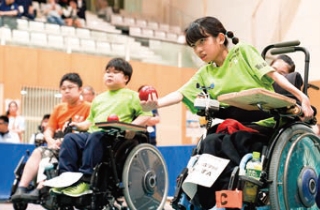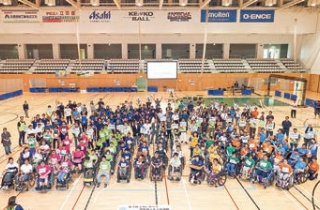 The CAC Cup (held in September 2019)
Support for education
The CAC Group is working with knowledgeable foundations and educational institutions
to provide high-quality education to the young people who will be the next generation of leaders.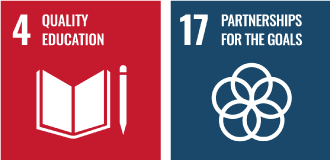 Mitrais, which joined the CAC Group in October 2019 and has major business locations in Indonesia, is a major sponsor of Yayasan Kemanusiaan Ibu Pertiwi, a foundation formed to support recovery following the terrorist bombings in Bali in 2002.
Through this foundation, which aims to break the cycle of poverty through education, Mitrais provides support for the education of more than 500 children.
Meanwhile, since 2014, CAC has co-sponsored the KOSEN Programming Contest, in which technology college students compete to create ideas and realize information processing technology using the programming experience they have accumulated on a daily basis. Through this, CAC contributes to the advancement of the contest and the development of IT human resources.
In addition, we actively provide internships to technology college students and university students and other learning opportunities to young people who will be the next-generation leaders.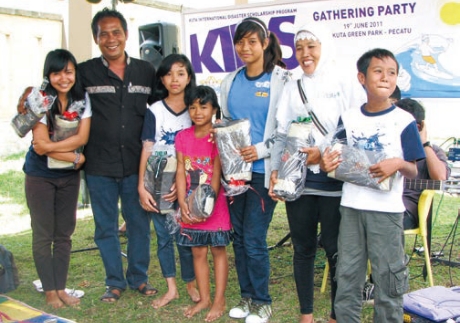 Support Party sponsored by Mitrais