Promoting and supporting Boccia
Activities for promoting and supporting Boccia, a sport for the disabled
As a member of society, we at the CAC Group engage in social contribution activities such as environmental protection and participate in activities of local communities. We also aim to build a better society through the provision of IT and healthcare services. Specific activities include providing support for the Japan Cross Country Skiing Association for the Disabled, support for events held in local communities and helping the Red Cross Society of Japan with blood donation activities. We also used our 50th anniversary as an opportunity to start promoting and supporting Boccia, a sport for persons with disabilities.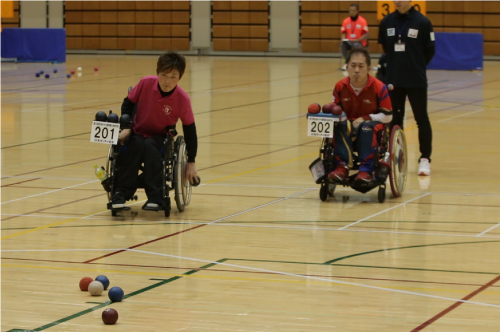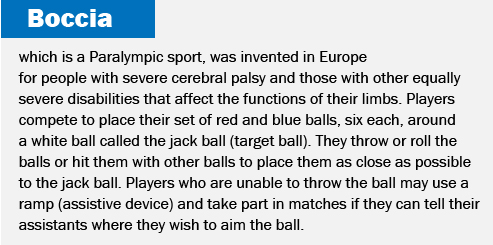 Initiatives of the CAC Group for Boccia
At the CAC Group, we have continued out work to promote and support Boccia with the aim of making it known to a greater number of people, helping provide more opportunities for disabled people to play this sport, and for other purposes.
In addition to providing support for the activities of the Japan Boccia Association and the operations of major tournaments in Japan, our employees are proactive in creating opportunities to enjoy playing Boccia on their own. At the 2017 Boccia Tokyo Cup, an inclusive Boccia tournament* that was held in March 2017, one of the 12 teams from the CAC Group achieved second place.
We are also improving the environment for watching Boccia games by making use of information technologies that we use for our businesses in the CAC Group. In December 2016, we announced the development of Boccia Measure (tentative name) (patent-pending), an Android application for measuring the distance between Boccia balls. In addition to helping Boccia games to run smoothly with Boccia Measure, we will communicate the progress of each game to spectators in an easy-to-understand manner. By making use of information technologies, we will continue to study tools that will shorten the distance between the Boccia court and spectator stand and warm up Boccia tournaments.
These initiatives were highly evaluated, and we were certified by the Tokyo Metropolitan Government as a Tokyo Sports Promotion Company for FY2016.
Provide support as a special partner of the Japan Boccia Association
Send employee volunteers to various tournaments to support the operations and cheer on players
Create an environment for watching Boccia games through measures such as developing support tools by making use of information technologies, a strength of the CAC Group