Messege from Management
Since we were founded in 1966, we have provided customers with systems development and integration and systems operation and management services under the basic principles of Independent/Neutral, User-Oriented, and Fully Liable for Deliverables. We take great pride in being a knowledge-intensive company that carefully studies its customers' business and operations and utilizes the knowledge it gains. We also provide outsourcing services, mainly in the field of Contract Research Organization (CRO) services. We are proactive in expanding our overseas business in each field, and we have grown to become a corporate group that now has approximately 5,700 employees in Japan and other countries.
In the IT service industry, new markets are expected to be created due to IoT, Fintech, AI, and other elements. On the other hand, cost reductions are strictly required in the existing system field. I believe that for us to continue growing sustainably as a company in this era of major changes, we must keep changing ourselves by introducing technologies and human resources from outside and integrating them into the CAC Group, instead of adhering to our existing business categories and previous success experiences.
The CAC Group is about to transform itself under the slogan of "Rebirth Beyond." I hereby request that our shareholders watch for and place hopes on the CAC Group, which will continue tackling challenges for the long-term, continuous improvement of its corporate value.
Akihiko Sako
President and CEO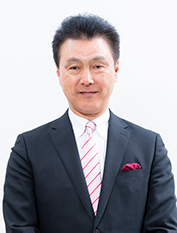 Akihiko Sako
President and CEO