Messege from Management
Since we were founded in 1966, we have provided customers with systems development and operational management services under the basic principles of being independent and neutral, user-oriented and fully liable for deliverables, all the while building a knowledge base of our customers' industries and businesses. We also provide outsourcing services, mainly in the field of Contract Research Organization (CRO) services. We are proactive in expanding our overseas business in each field, and we have grown to become a corporate group that now has approximately 5,400 employees in Japan and other countries.
In recent years, a wave of digital transformation has quickly swept through the world, bringing considerable changes to people's daily lives, corporate activities and social as a whole through AI, IoT and other advancements. These changes mean the skills demanded of us as a system integrator are also vastly different. I believe that for us to continue to grow sustainably and exist in this era of major changes, we must consider what kinds of services we should provide to society and change accordingly.
Having declared the new corporate philosophy of creating new value on a global level with the use of the latest ICT technologies, the CAC Group will take on the challenge of these greatly shifting times and strive to become a company that continues to grow over the medium to long terms. Thank you for watching over and placing your hopes in the Group moving forward.
Akihiko Sako
President and CEO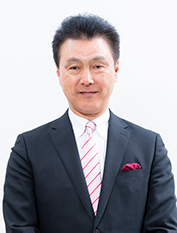 Akihiko Sako
President and CEO