Medium-Term Strategy
The shift to "digital transformation," where AI, IoT and other digital technologies significantly transform the lives of individuals, corporate activities and even society at large, is approaching rapidly. This shift has changed the capabilities required by system integrators and outsourcers and may eliminate companies with no knowledge of digital technology.
To achieve sustainable growth while keeping pace with the rapid digital transformation, the CAC Group established a new medium-term strategy (for FY2018 to FY2021) and strives to achieve its target.
---
Numerical targets
The Group aims to achieve \70 billion in net sales, \4 billion in operating income (existing businesses: \50 billion in net sales and \2.5 billion in operating income, new businesses: \20 billion in net sales and \1.5 billion in operating income) by the end of FY2021, the final year of the mid-term strategy.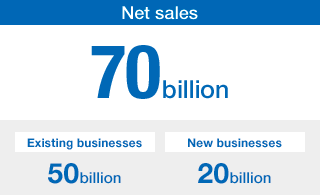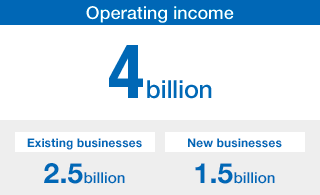 The three initiatives
1. Improvement of Earnings Power in Existing Businesses
The Group will focus on improvement of earning power in existing businesses. It aims to provide highly value-added services using digital technology, and also promotes business restructuring and cost reduction.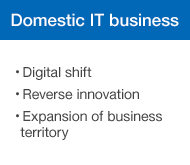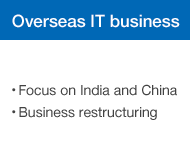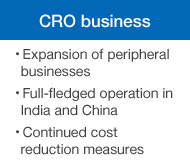 2. Creation and Expansion of New Business Domains
To create and expand new business domains, the Group will establish a dedicated department within CAC Holdings to acquire new management resources through investment. With "nursing care," "agriculture" and "inbound" as keywords, it will focus on digital business mainly in Asia, including China and India, to expand the Group through investment in companies with growth potential and through M&A.



3. Strengthening and Revitalizing of the Group
Group-wide joint training of future resources and strategic personnel rotation will revitalize the Group. Revamping management accounting and adopting a new evaluation system will strengthen the Group's management. Moreover, enhancing public relations and IR and CSR activities will improve the Group's corporate presence.