Relationship with society
Contribution to society in the healthcare field
At the CAC Group, we provide services including CRO services and systems development and integration services related to corporate pension. In this super-aging society, where the aging of the population is expected to continue, we would like to contribute to society by expanding our businesses to nursing care, healthcare, and similar fields, in addition to the fields of CRO and pensions. To date, in the field of pensions, we have supported the establishment of the Institute for Strategic Solutions for Pension Management, an institution for research on pension systems, and we will continue to support the operations of the institute, in addition to operating businesses related to pensions.At the CAC Group, we have been involved in more than 50 projects for the construction of systems related to pensions, contributing to the sustainability of the pension system, and we are deeply aware that many issues need to be solved to ensure the stability of the pension system in the future. Having endorsed the establishment of the Institute for Strategic Solutions for Pension Management, whose vision is to "improve the public trust in the pension system and contribute to its long-term stability," we will continue to support the institute.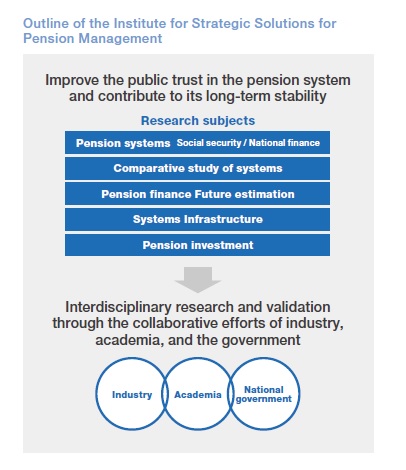 Disseminating technologies and knowhow of operations
Since our establishment, we at the CAC Group have enjoyed long-term business relationships with leading companies in Japan in a range of fields, including Astellas Pharma Inc. (formerly Yamanouchi Pharmaceutical Co., Ltd.) and Mizuho Bank, Ltd. (formerly Industrial Bank of Japan, Ltd.). We have accumulated technologies and knowhow through these relationships. We disseminate our expertise and knowledge of operations outside the company, rather than retaining them internally. In 1974, CAC Corporation launched SOFTECHS, a technology report magazine. The company has continued to publish this magazine for more than 40 years. In SOFTECHS, employees of our group companies, our customers, and external learned individuals report and explain technologies under specific themes, projects that the CAC Group was involved in, and other topics. In the financial field, in which we have strength, CAC Corporation employees have written books that show systematic summaries of knowledge of banking operations, corporate pension, and similar topics. They are Zukai de manabu SE no tameno kigyou nenkin nyumon (Illustrated ABCs of Corporate Pension for SEs) and Zukai de manabu SE no tameno ginkou sandai gyoumu nyumon (Illustrated ABCs of the Three Major Bank Operations for SEs). These books summarize information that is needed not only by system engineers involved in operations in the financial field but also by people who are beginning to learn banking operations. In March 2017, we published SE no tameno kinyu jitsumu keyword jiten (a dictionary of keywords on financial practices for SEs), a dictionary-style book that explains the latest keywords on financial affairs, banks' operations, products, and services, and other relevant topics.